News
《Little Witch Nobeta》An interview with Nobeta's VA: Konomi Kahara!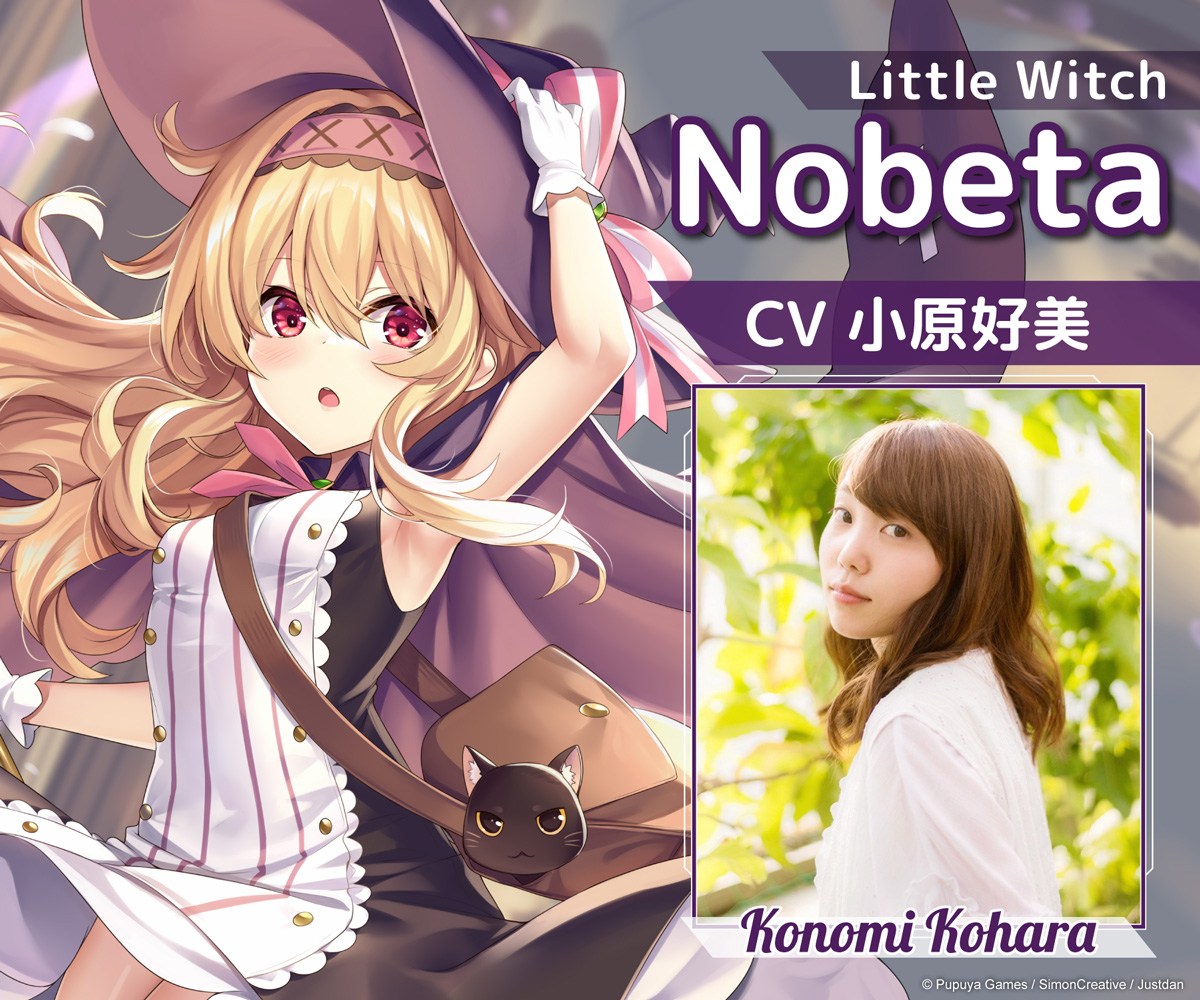 Konomi Kohara is the main voice actress for Little Witch Nobeta, she's played as Chika Fujiwara (Kaguya-sama: Love Is War), Roxy Migurdia (Mushoku Tensei), Akane Mizuno (Tsuki ga Kirei), Kasumi Nomura (Asobi Asobase), Yuko Yoshida (The Demon Girl Next Door) and Yuni (Princess Connect Re:Dive), and have made these character come to life with her vivid performance.
✧ ✧ ✧
Here are 7 questions about your thoughts on Little Witch Nobeta, we hope that the fans will come to know more about voice acting behind the game:


Q1. Please tell us about your impression on Nobeta.
My first impression is that she's cute and mysterious! But as the story progress and I learned of her feeling, I started to feel that she's a charming girl who's quite attractive.


Q2. Please tell us about your impression on the little black cat.
At first, I thought it's a very cold kitty (laugh). But I also felt that it's kind-hearted, it's very cute.


Q3. Is this the time you've played multiple roles in the same work?
It's not the first time but it's also rare for me. It wasn't easy just as I thought but I tried my best!


Q4. Could you tell us about your feelings when you were voicing the characters?
Every character has different personalities and voices. As well as how they would react to feelings and actions, it is difficult to portray them.


Q5. What's your favourite part or a part that gave you a deep impression in the story?
I love the interaction between Nobeta and the little black cat, it made quite an impression how the kitty's astounded by curious Nobeta and how the kitty became straightforward and shy afterward.


Q6. For you, what's the difference between performing in video game and animation?
There are more lines in video game, and I think it would be difficult if I wasn't able to understand every characters. But in terms of performance, emotionally it's the same for me, I try my best to play every characters.


Q7. Thank you for the answers, this is the end of our interview, would you like to say a few words to fans across the world?
I'm Konomi Kohara the voice actress of Nobeta.
I'm glad to have performed in the work. In the mysterious universe anything exciting could happen, and I hope everyone will enjoy their adventure with Nobeta! I'm also looking forward to seeing the game complete, thank you!
✧ ✧ ✧
【Game info】

Title : Little Witch Nobeta
Genre : Action adventure
Platforms : Nintendo Switch/ PlayStation®4/Steam
Release Date : 29th September 2022
Dub : Japanese
Language : Traditional Chinese, English, Japanese
Player : 1
Developer : Pupuya Games
Co-developer : 希萌創意(SimonCreative)
Publisher : 傑仕登(JUSTDAN)
✧ ✧ ✧
【CAST】

Little Witch Nobeta : Konomi Kohara
Ribbon Loving Soul Doll – Tania : Omaru Polka
Doll Hugging Soul Doll – Monica : Shirakami Fubuki
Soul Doll of The Throne – Vanessa : Shirogane Noel

Mai Kadowaki / Kaori Nazuka
akahiro Yoshimizu / Nishimura Toshiki / Gomi Koichi / Katagai Nao / Imakawa Nozomi
✧ ✧ ✧
【Links】

Official twitter:
https://twitter.com/nobeta_staff_en 

Official facebook:
https://www.facebook.com/LittleWitchNobeta

《Little Witch Nobeta》STEAM:
https://store.steampowered.com/app/1049890/Little_Witch_Nobeta/